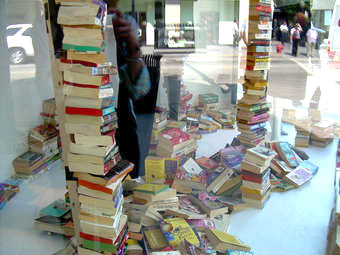 "Hello, this is Donna Seaman welcoming you to Open Books, a show about outstanding books, remarkable writers, and the fine art of reading."

So begins each edition of Open Books, an hour-long, Chicago-based radio program on which I speak with writers whose work I find enlightening and affecting, perhaps beautiful, funny, urgent, profound, or all of the above. Open Books is rooted in my work as a reviewer and editor for Booklist, and my lifelong love for books. A passion shared by many. Literature is a grand, vital, and necessary conversation, and I've found that talking with writers deepens my appreciation for writing, reading, and books. I hope listeners have the same experience.
An ardent booklover, how could I resist creating a collection of author interviews? In Writers on the Air: Conversations about Books, published by Paul Dry Books (www.pauldrybooks.com), more than 30 interviews are accompanied by commentary and related reading lists.
Now, with the generous support of the Leo S. Guthman Fund and the Illinois Arts Council, a state agency, we are able to offer free downloadable audio files of select editions of Open Books. Click on Interviews and you will see writers you're familiar with. But take a chance and find out what writers you've never heard of before have to offer. Every conversation is a story, every book a cosmos.